During birthing season (October-December), many orphaned flying-foxes come into care. Their mothers may have been seriously injured or have died due to various causes such as electrocution, barbed wire or fruit netting entanglement, car accident or domestic pet attacks.
On average, Bat Rescue members hand-raise more than 100 orphans every year.  The long process can cost more than $200 for each baby for milk formula, medication and food until release.  Symbolically adopting a bat assists our volunteer carers to cover these costs.
Orphans are seasonal and a small selection are offered for adoption from November each year.  Just in time for Christmas, if you are looking for an unusual gift!
Our adult education flying-foxes (Phoebe and Bonnie) are available throughout the year for adoption.  Funds raised helps offset the cost of their upkeep.
Adoption Fee $50 (we'll happily accept more!)
Choose from a number of seasonally featured orphans, or our education adults, and you will receive a personalised printable Certificate and species fact sheet in return.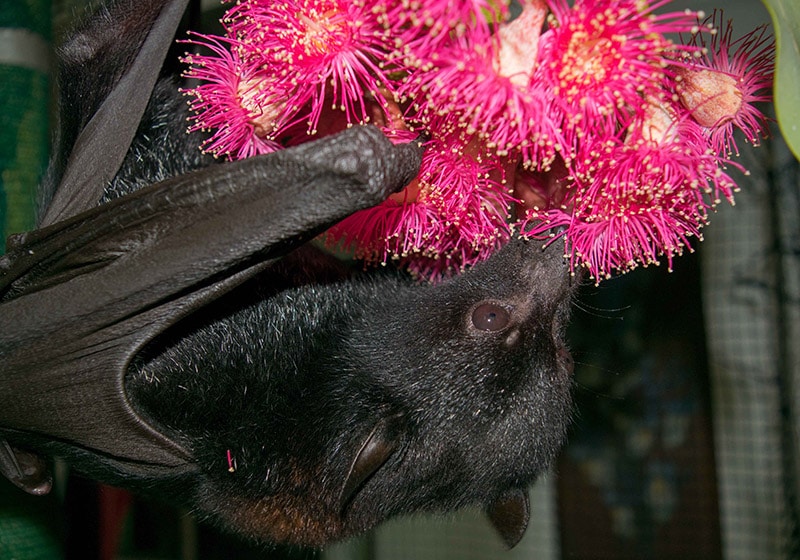 Phoebe is one of our permanent display/education bats, held under special permit.  At Bat Rescue's regular environmental displays, school presentations and events, Phoebe and her best friend Bonnie are always the star attraction. When they are not on duty, Phoebe and Bonnie enjoy hanging out together and acting as mentors for our juvenile orphans.
Phoebe was a late season orphan found on the ground in 2008.  She spent months in winter-creche, along with other youngsters who had missed the release window in March/April.  Our primary goal is to prepare animals for release back into the wild. In Phoebe's case the combination of her social personality and the extended length of time she spent in care created a bat who preferred the company of humans instead of bats.  Despite all efforts, she failed to release successfully.  However Phoebe's calm temperament and friendly nature made her an ideal candidate to remain in permanent care as an education bat.   Phoebe and Bonnie now work together to spread the message of the important role bats play in the ecosystem.
Phoebe is particularly popular with children at school educational visits, and has a large collection of fan mail from admiring fans.
Maintaining permanent education animals is a lengthy financial commitment in terms of food, equipment and transportation.  Supporting Phoebe enables us to cover these costs.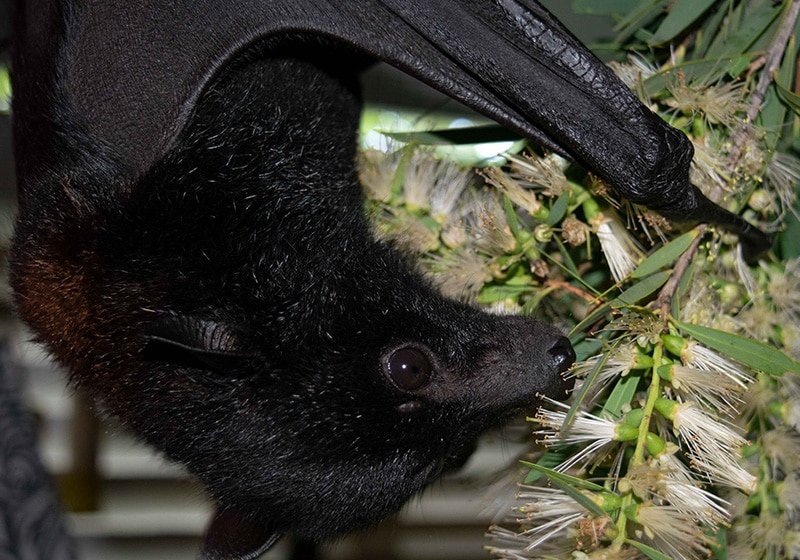 Bonnie is one of our permanent education/display bats, held under special permit.    Bonnie and her best friend Phoebe provide an opportunity for the public to see flying-foxes up close.  They are regularly invited to attend events, environmental displays and school presentations.  Being spoiled with lots of blossom and attention is their reward, and they seem to genuinely enjoy their days out.
Bonnie was rescued as an orphan in November 2015 when her mother was electrocuted on overhead powerlines.  She sustained burns to both wings, which unfortunately left her unable to fly.  Usually wildlife which cannot be rehabilitated to survive in the wild is humanely euthanased, in accordance with the Code of Practice.  However, after a successful introduction to Phoebe in 2016, we obtained a permit to keep Bonnie.
Bonnie loves hanging in the sun, and during winter days will snuggle up to the heater.  She has a very curious and playful nature, rushing over to investigate anything new in the enclosure.  Her favourite foods are fig leaves and grapes, and she has been caught helping herself to apples out of the box on fruit delivery days.
Maintaining permanent education animals is a lengthy financial commitment in terms of food, equipment and transportation.  Supporting Bonnie enables us to cover these costs.
STEP 1 DETAILS
Complete and submit the following information:
STEP 2 PAYMENT
Please choose one of the following options:
PayPal
The 'Donate' button below will direct you to the secure PayPal site. Specify the name of your chosen bat in the PAYMENT FOR box.
Direct Deposit
Reference the name of your chosen bat.
Please email the bank receipt to admin@batrescue.org.au so that your order can be processed without delay.
Bat Rescue Inc, Westpac Bank
BSB: 034 204
Acc #: 222356
Any amount is very much appreciated. Donations to Bat Rescue Inc. over $2 are tax deductible.